It's probably a sign of old age, but I'm finding it harder to distinguish between many of the less famous Arabic named horses. Mawatheeq was one such horse (incidentally the name means treaty or treaties), however an impressive series of results for his progeny in recent weeks, had me revisiting the record books.  I suspect that given time, Mawatheeq will rise to a more prominent position in the stallion world from his current lowly position.
Recent Results
The table below show the last six runners by Mawatheeq all of whom finished first or second. It's a brave or foolish person who ascribes too much significance to such a sequence in early season maiden races but it does offer hope of a profitable season. In particular Mulkeyya's debut run at the Curragh was most promising. This 25 runner maiden was won by the 106 rated The Warrior, and Mulkeyya's performance gave hope of black type before season's end.
List of Mawatheeq's Recent Runners in UK and Ireland
The performance of the three year old runners is in contrast to his first two year old runners in 2014, which consisted of only 2 winners (one in Italy and one in Hungary) for the season. In Britain there were no winners from 13 runners. However, bearing in mind his own race career and that his first book consisted of only 42 mares, that lack of success is less surprising.
Mawatheeq's Race Record
The bare facts of Mawatheeq's career are underwhelming,showing a solitary stakes win from a 9 race career. Trained by Marcus Tregonig, he was unraced at two (reportedly due to injury), won two of his four starts at three (a maiden and a handicap), before blossoming in the Autumn of his four year old career. After a disappointing four year old reappearance in April, he won a Doncaster handicap in September before making a big leap forward with an impressive victory in the 12 furlong Group 3 Cumberland Stakes. The upward trend continued when on his seasonal bow he finished runner up in the Champion Stakes to Twice Over. It wasn't the strongest ever field for a Champion Stakes but he still had the likes of classic winners Sariska and Fame and Glory behind him. With such an improving profile, his five year old career promised much, but proved anti-climatic consisting of a solitary run, when well beaten in the Prince of Wales's Stakes Stakes at Royal Ascot. A recurrence of his two year old injury, saw the end of his track career and he was retired to Shadwell Stud.
Stud Career and Sales
Mawatheeq's initial stud fee was a modest £5000 which dropped to £4000 and is now listed as private (but not in the Galileo sense of the word- more the too embarrassed to disclose sense) so we know that the mares he was covering were a modest bunch. This lack of quality is reflected in a yearling average that was just over 6000 guineas for his first two crops. He has struggled for patronage possibly due to a bias against staying sons of Danzig,as conventional wisdom would have us believe that Danzig's really good sire sons were sprinter/milers (eg Green Desert,Danehill, War Front). In the case of Mawatheeq there was no need for Shadwell to trumpet their restricted books as you can take it they didn't need to turn away hordes of disappointed mare owners :). Incidentally the aforementioned Mulkeyya (ex Rifqah) might be one of the best bred mares that he covered being a descendant of Allegretta.
Pedigree
Mawatheeq's pedigree is a match for any stallion's. He is from the last crop of the great sire and sire of sires Danzig and his female line is dripping in black type.  His dam Sarayir (by Mr Prospector) was an unbeaten stakes winning two year old, rated highly enough to make her three year old reappearance in the 1000 Guineas. That she failed to add to her reputation at three hardly detracted from her paddock valley as she was a daughter of the Queen's Height of Fashion. Height of Fashion was top rated British Two year old filly of 1981 with victories in the Fillies Mile, and May Hill Stakes to her credit and she added a Princess of Wales's Stakes to her record at three (in which race she broke the track record held by her half brother Milford). She was sold for an undisclosed amount (but estimated at the time to be between 1.4 and 1.8 million) after the Princess of Wales's Stakes to Sheikh Hamdan Al Maktoum, in whose colours she ran poorly in both the King George and Yorkshire Oaks. Ultimately though, she proved to be a real bargain for the Sheikh as she became the dam of dual classic winner Nashwan Gr1x4 (by Blushing Groom), Nayef G1X4(by Gulch), Unfuwain G2 (by Northern Dancer), Alwasmi G3 (by Northern Dancer) and Mukddaam L (by Danzig) all of whom had stud careers with varying degrees of success. This success was hardly surprising as Height of Fashion's dam Highclere was herself a winner of a 1000 Guineas and French Oaks and Highclere's grandam Hypercium also won the 1000 Guineas. Other branches of the family have provided the likes of Japanese superstar Deep Impact (a great grandson of Highclere).
Mawatheeq's dam Sarayir did her bit for the family tradition by producing Ghanaati (by Giant's Causeway) who also won the 1000 Guineas and Coronation Stakes. In addition she is the dam of Rumoush (by Rahy) who was a listed winner and a good third to Snow Fairy in the 2010 Oaks. This is undoubtedly one of the best family's in the stud book.
Conclusion
As one of the last sons of Danzig from a stellar family, one might have thought that Mawatheeq would live up to his grandams name as the Height of Fashion. However his initial book of only 42 mares, despite a modest fee of £5000, tells you all about the market prejudice against late maturing types. In addition he didn't correspond to the market expectation of a good Danzig sire being best at middle distances and standing 16 1 ½ . His solitary stakes success at no more than Group 3 level also counted against him. His results to date are still very modest with no stakes performers but the early results for his three year olds are relatively promising and it will be interesting to see if his offspring continue to improve with age. On pedigree he has everything you would like to see in a stallion and at such a lowly fee he might just prove a bargain for any patient breeders, not too concerned about the yearling market.
Mawatheeq's Page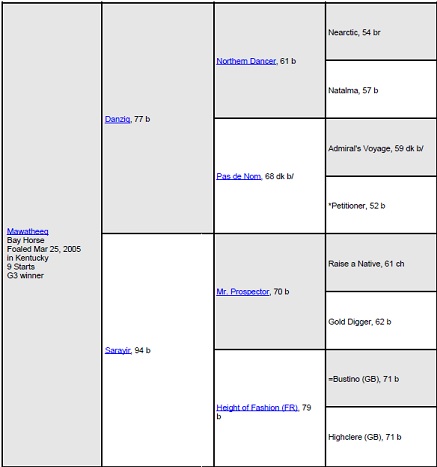 See below for a promotional video of Mawatheeq by Shadwell